Products
Circular and non-circular pipes,
joints and fittings for nearly all
corrosive piping applications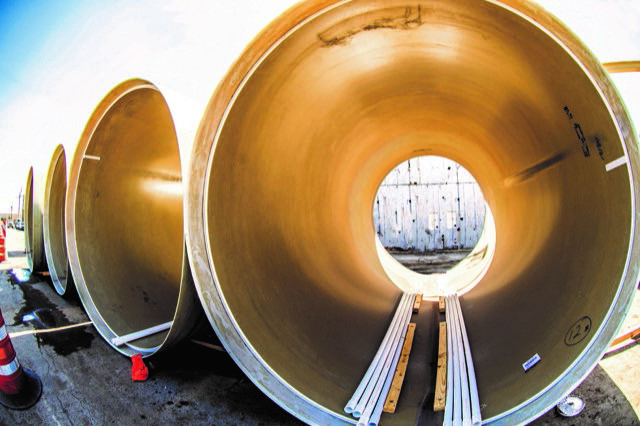 Description
Hobas Pipes are fiber glass reinforced, polymer mortar pipe. These large diameter pipes are ideally suited for nearly all corrosive piping applications. Hobas pipes may be installed by a variety of installation methods. Hobas pipes can be economically designed for non-pressure and pressure service by varying the quantity, placement, and orientation of the glass-fiber reinforcements. The figure below shows a typical cross-section of a pipe consisting of a fiber-composite laminate. The raw material compositions of each layer can differ depending on the application. For instance, the thickness of the inner core can be reduced, or the core even removed for higher pressure classes.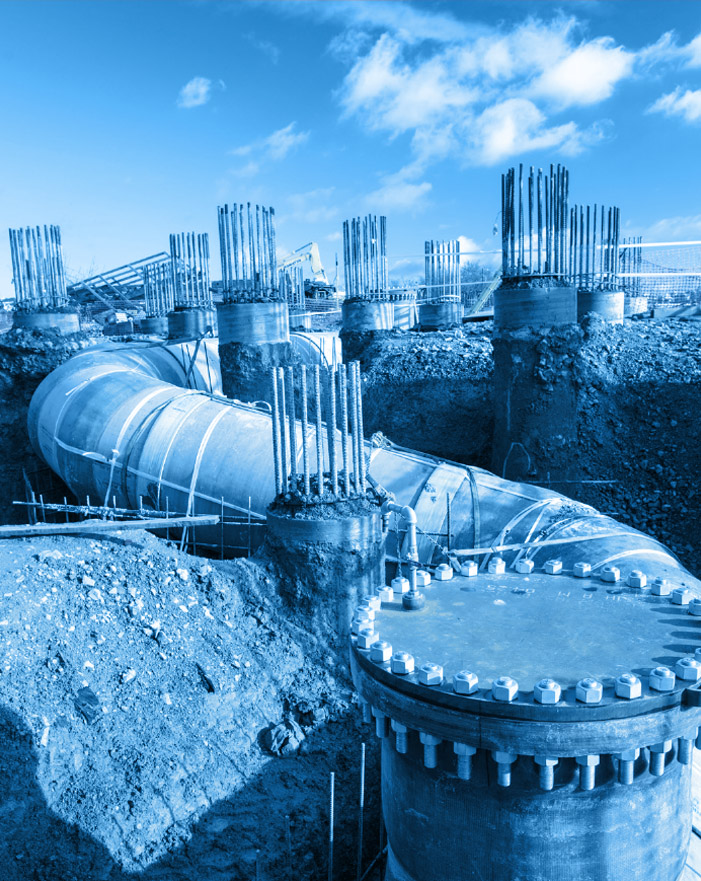 Product Range
Nominal Diameters
12″
14″
16″
18″
20″
24″
27″
28″
30″
33″
36″
41″
42″
44″
45″
48″
51″
54″
57″
60″
63″
66″
69″
72″
78″
84″
85″
90″
96″
104″
110″
120″
126″
Joint Type
FWC Coupling
Wrapped FWC Coupling
Flush Bell-Spigot
Flush FWC Coupling
Pressure Rating
Pressure Pipes with Operating Pressure up to 450 psi
Nominal Stiffness
36 psi
46 psi
72 psi
Other
Fittings
Elbows
Flanges
Tees
Nozzles
Reducers
Wyes
Laterals
Manholes
Applications & Installations
Applications

Sewer Interceptors
Water Supply
Force Mains
Outfalls
Industrial Effluents
Salt Water Lines
Chemical Process Lines
WWTP Piping
Odor Control Piping
Irrigation
Cooling Water
Potable Water
Penstocks
Storm Water

Installations

Direct Bury
Sliplining
Jacking & Microtunneling
Tunneling (Two Pass)
Aboveground
Pipe Bursting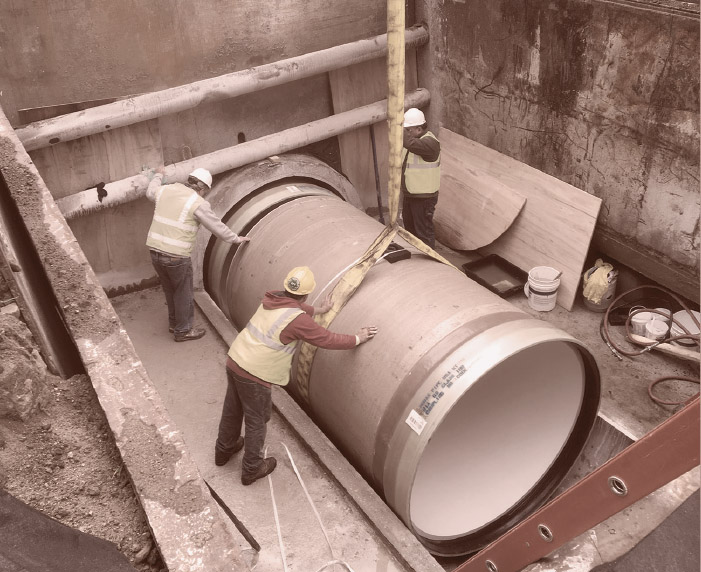 ASTM and AWWA standards cover most applications and product tests. 
Product Standards
Non-Pressure Sanitary Sewers
ASTM D3262
Sewer Force Mains & Industrial Effluents
ASTM D3754
Pressure Water Systems
AWWA C950
Fiberglass Design
AWWA M45
ASTM and AWWA standards cover most applications and product tests. 
Product Benefits
Long Life
Superior inherent corrosion resistance of the pipe materials results in a long, maintenance-free service life.
Easy Installation
High stiffness design yields predictable and reliable pipe performance using installation methods routinely specified for traditional pipes.
Push-together joints assemble simply and quickly
Lightweight pipes handle easily and safely.
Fits Standard Pipe Accessories
O.D.'s match ductile iron dimensions up to 48" diameter so standard saddles, taps, fittings, couplings, clamps, joints, etc. are compatible and readily available.
Easy To Specify
ASTM and AWWA standards cover most applications and product tests. To receive guide specs, please leave a message.
Fast Field Length Adjustments
Constant, smooth O.D.'s permit the pipe to be cut and joined anywhere with the Hobas sleeve coupling.
Closure couplings assure quick tie-in connections with a positive seal.
Leak-Free Joints
Rubber-ring-sealed bell-spigot and coupling joints provide fast, fool-proof assembly and long-term, leak free service.
High Flow Capacity
Oversized pipe I.D.'s and the glass-smooth interior surface result in the highest flow capacity available and significant power saving in pumped systems.
Lower Project Cost
Increased competition from Hobas pipes has consistently resulted in substantial reductions in pipe prices.
Consistent Quality
Computer controlled production process assures consistent, high quality pipes.
Tested to ASTM and AWWA standards.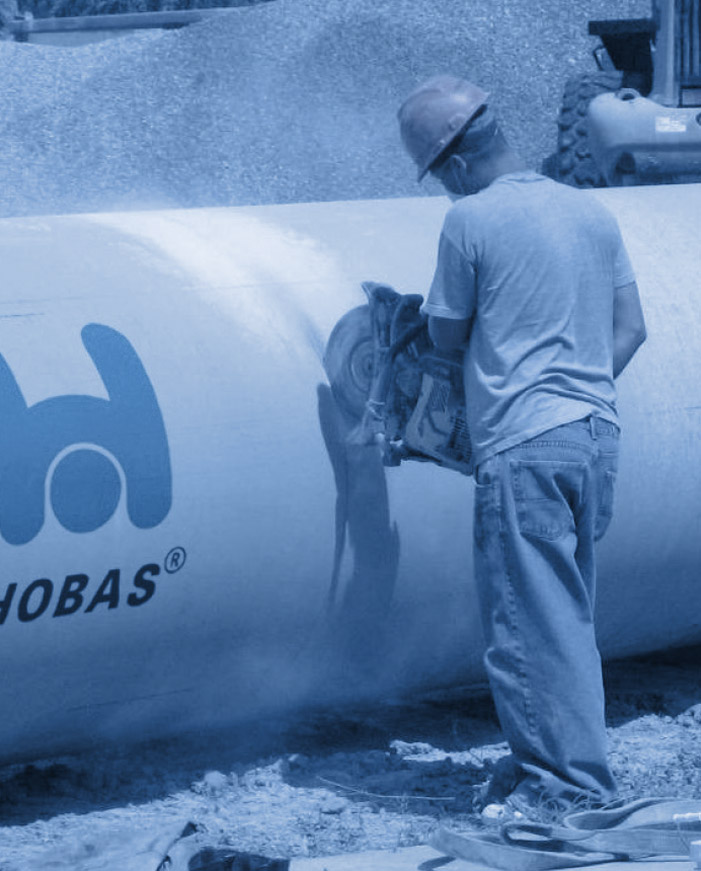 Constant, smooth O.D.'s permit the pipe to be cut and joined anywhere with the Hobas FWC sleeve coupling
NC-FRP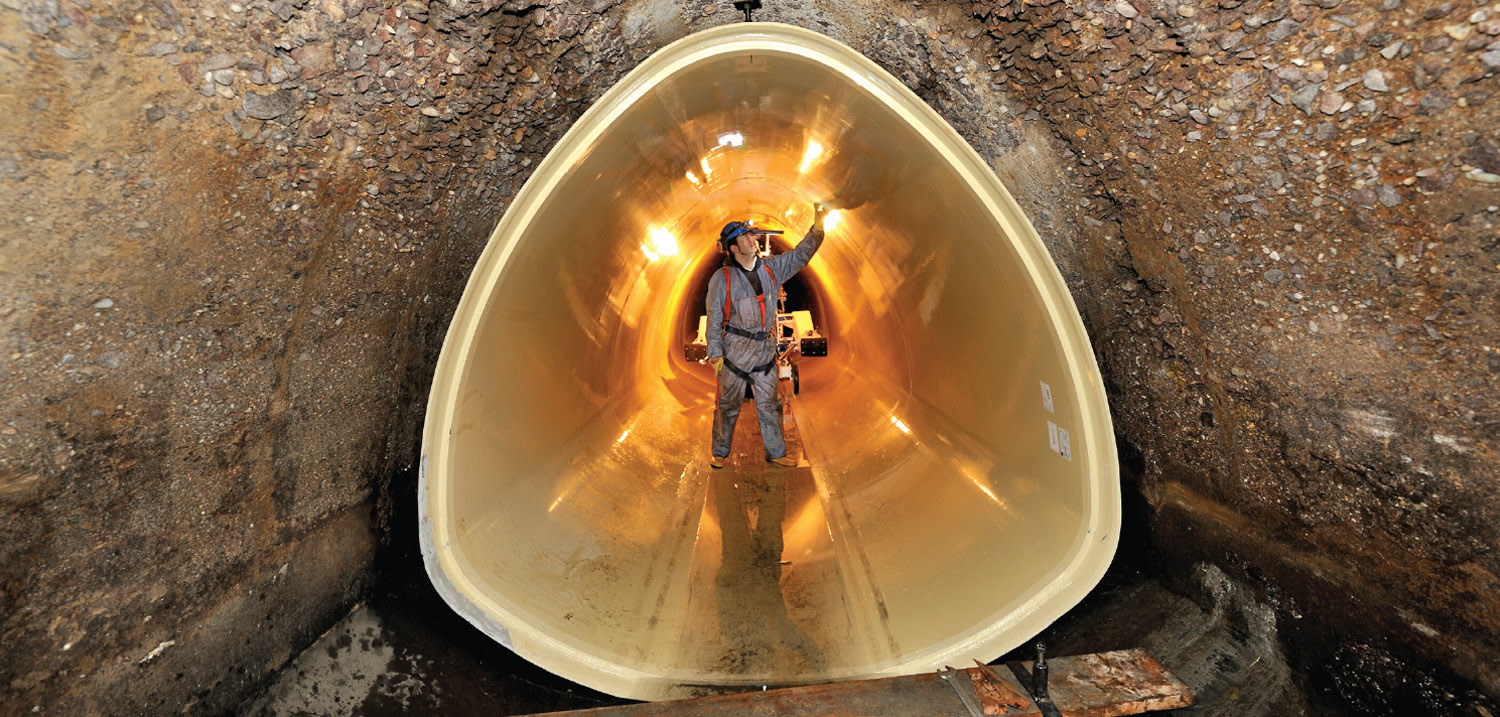 Description
Many US cities started building modern sewer systems in the late the 19th century. Still in service today, the large sewers with specially shaped cross sections are the result of great feats of engineering and the foresight shown by the city fathers at that time. After such long periods in use, however, rehabilitation often becomes inevitable despite regular maintenance. Hobas NC profiles, with their non-circular cross sections, are ideal for rehabilitating these old sewers or building new ones. Hobas can also provide manhole renovation solutions and reline older pipes.
Manufacture Hobas NC pipes feature a particularly resin rich inner layer. Pipes are designed for specific loads and project requirements, while also taking structural dimensions, customer specifications and regulations regarding chemical resistance into account. During installation, the pipes are pushed or pulled into the existing pipeline and the remaining annular space between the host and liner pipes is filled with grout. This fixes the inserted pipe in position, creating a pipeline of the very same integrity as a new one.
Joints & Couplings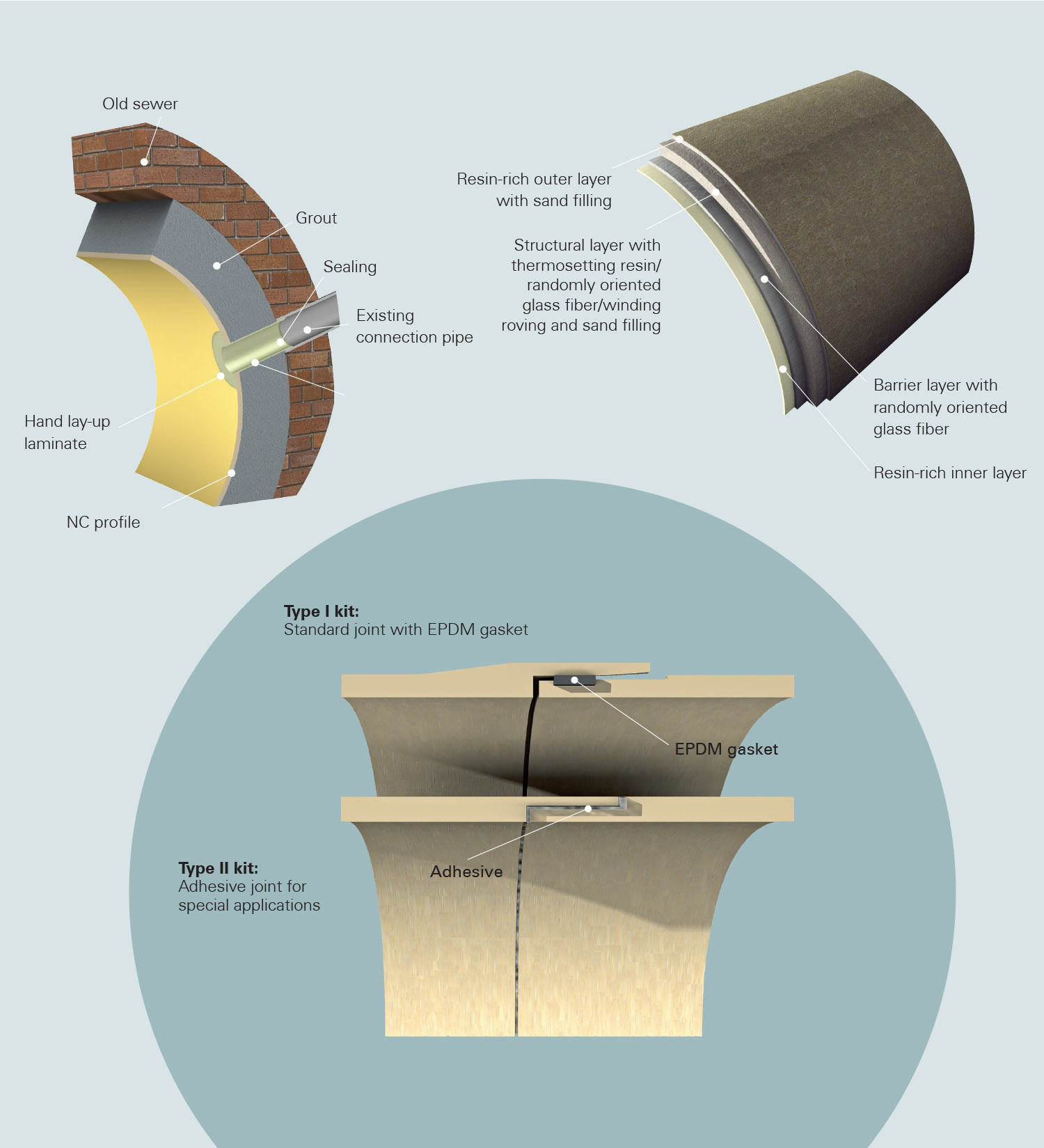 Shapes / Profiles
Kite-shaped
Egg-shaped
Elongated egg-shaped
Jaw-shaped cross
Jaw-shaped with dry weather channel
The range of available Hobas NC cross sections is just as varied as the history of wastewater disposal itself. In addition to classic cross sections, such as circular, egg, jaw, or kiteshaped pipes, we manufacture additional combinations of shapes to customer request. Having perfected the necessary manufacturing technologies, Hobas is regarded as a specialist for solving complex rehabilitation problems. Our product range also features shafts and manholes. Hobas can supply customers with a complete system including pipes with special cross sections, lateral connections and manholes.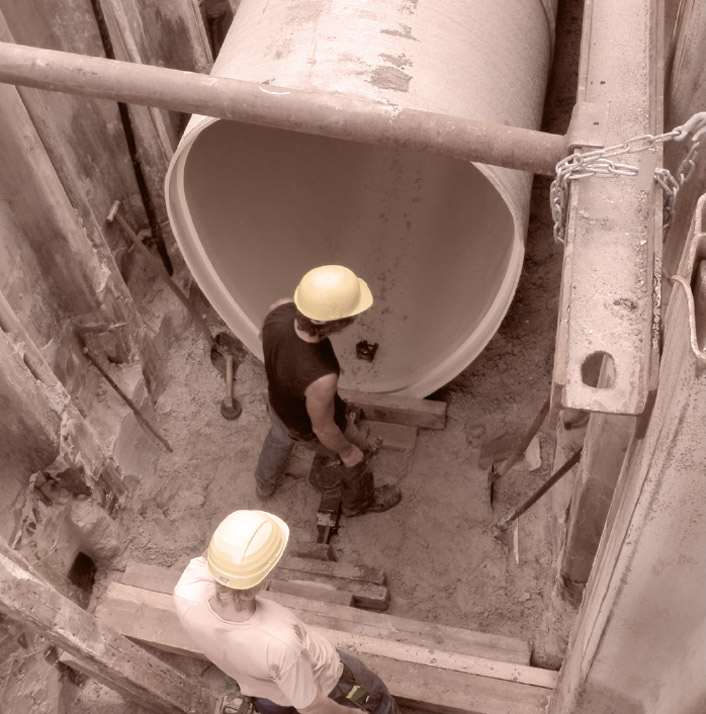 The range of available Hobas NC cross sections is just as varied as the history of wastewater disposal itself.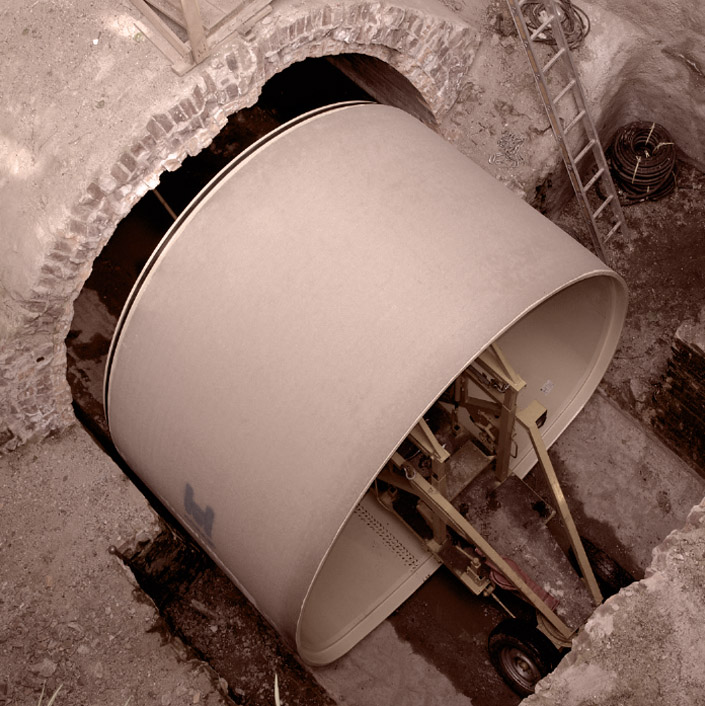 Manholes
Hobas Manhole System
Hobas Fiberglass Reinforced Watertight Structural manhole system consists of Hobas pipe, t-base and now a cone to provide a complete corrosion resistant leak free system from the trusted name in the industry.
Since 1987 Hobas has manufactured pipe and fittings including tee bases and risers. All that was missing was a top.
Finally, Hobas has topped it off by offering a complete system which includes a fiberglass cone made from the same materials as the corrosion resistant, leak free pipe our customers have become accustomed to. Since it is manufactured with the same corrosion resistant materials, a long maintenance free life can be expected just like the 100-year design of the Hobas pipe.
The manholes are manufactured to exceed AASHTO H-20/HS-20 loading design standards, and are stiffer than the current minimum requirements of the ASTM manhole standards.
The hydraulic efficiency means that the flow will remain uninterrupted through the Tee Base structures, minimizing odor emissions as well as the release of hydrogen sulfide gases. The Hobas manholes offer ease of installation as they are much lighter weight than transitional systems and the couplings produce leak-free service
Hobas Pipe USA is now committed to being your full system supplier.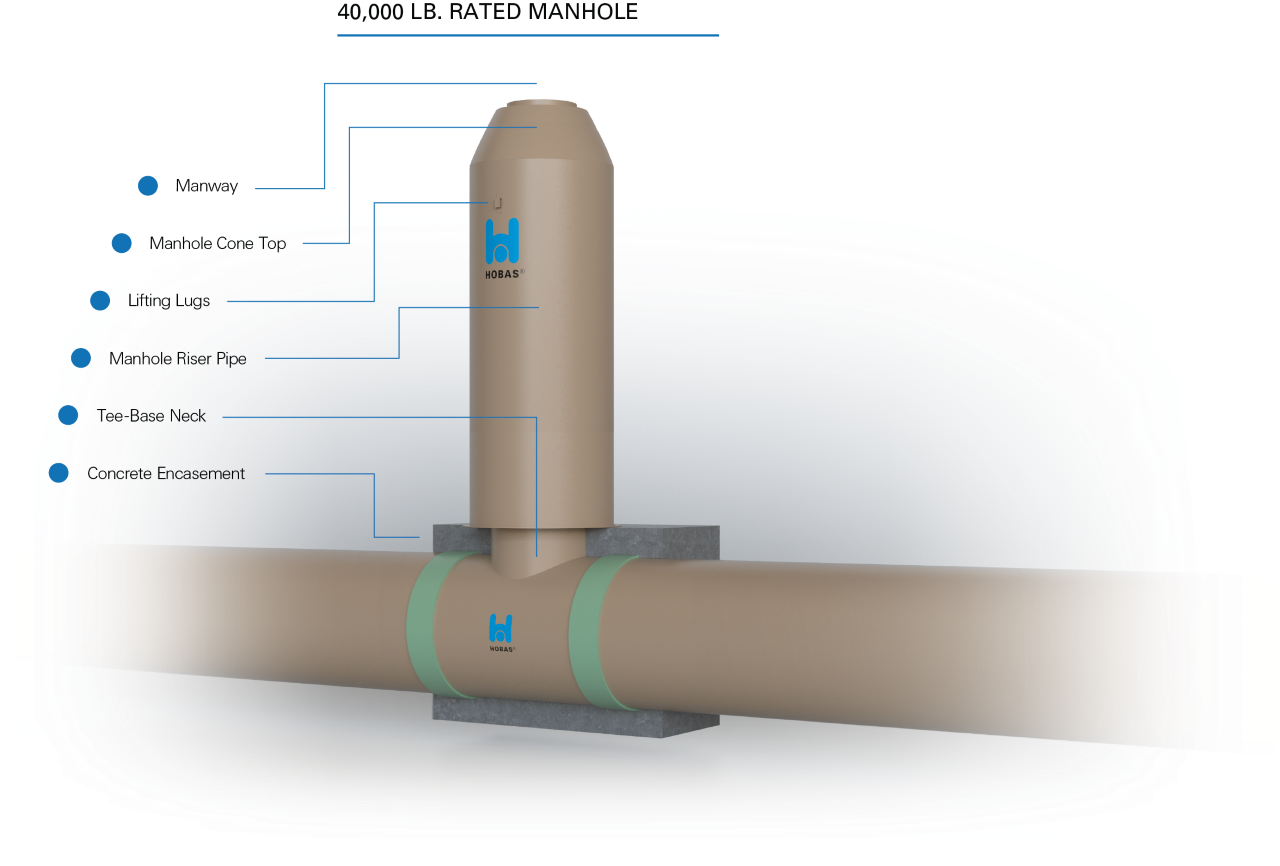 Fiberglass Reinforced Watertight Structural Manhole System
Hobas Tee Base with Riser Section
To meet your project design requirements, a new Hobas tee base manhole system is available with added features and size options.
Features & Benefits
STRUCTURAL
Exceeds ASTM D3753 Load Rating by 50%
AASHTO HS20/HS25 traffic rated
SN46 or 72 psi pipe stiffness, 1500% higher than ASTM minimums
Built-in anti-flotation ring when needed
Simple concrete encased tee-base handles loads with added safety factor
WATERTIGHT
Laminated/welded cone to riser section
Zero Infiltration/Exfiltration top to bottom
25 psi internal/100 psi external rating
Embedded FWC coupling to seat the riser
HYDRAULICS
No step-downs at the connection
Tee is exact ID as the pipe for minimal flow disruption
Reduced odor emissions with laminar flows
Any angle turn and any lateral is possible
18"-126" Tee sizes
48" or 60" Riser sizes
3"-30" future connections made w/ tapping tees (others)
24", 30" and 36" standard manhole cover openings
INSTALLATION ADVANTAGES
Lightweight system, small excavators could install pipe, tee and riser
Eliminate the cost and hassle of large cranes on standby
Reduced trenching requirements (width) for the tee
Maintenance free service